Marta Oms ❤ Joiera i Gemmòloga
Marta Oms està especialitzada en crear joieria de plata, or de 18kt i pedres naturals. Com a gemmòloga m'agrada viatjar per tal de trobar pedres rares i especials per crear les meves peces. Si estàs interessat en una joia personalitzada, podem treballar junts per dissenyar-la i convertir-la en realitat!
Marta Oms specializes in creating handmade jewelry from sterling silver, 18kt gold and natural gemstones. I'm also gemologist and I love to travel to find rare and special gemstones to create my jewels. If you're interested in a special piece, we can work together to create it and bring your idea to life!
El meu nom és Marta Sànchez, sóc joiera i gemmòloga, i dissenyo joies des de fa més de 20 anys. Visc i treballo a Sabadell amb la meva parella, les meves filles i una gateta. Pots conèixer la meva història aquí!
My name is Marta Sànchez, I'm jeweller and gemmologist, and I'm making jewelry since 20 years ago. I live and work in Sabadell (Barcelona) with my husband, my two girls and a sweet cat. You can know my story here!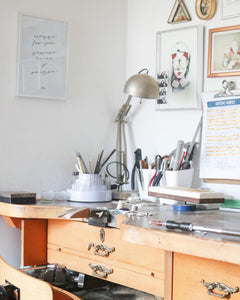 Cada una de les joies de Marta Oms està dissenyada i creada amb les meves mans dels del principi fins al final. Utilitzo tècniques tradicionals de joieria i passo la major part del temps serrant, llimant, soldant, polint, forjant i fent boques de pedres. Si vols visitar el meu taller envia'm un missatge!
Each Marta Oms piece is designed and built with my hands from start to finish. I use many traditional metalsmith techniques in my work and spend most of my time sawing, filing, sanding, soldering, hammering and making bezels. If you want to visit my workshop send me a message!
La meva inspiració ve de la natura, d'un viatge, o a vegades d'una història que he llegit o d'un somni que he tingut, però la majoria de vegades és com si hi hagués algú parlant-me a cau d'orella i guiant les meves mans cap a una joia. Pots veure les meves col·leccions aquí!
My inspiration comes from nature, emerges from a trip, other times from a story I have read, or even from a dream I have had, but most times I feel that there is someone whispering and guiding my hands into a jewel. See my collections here!
VENC PER INTERNET DES DE FA MÉS DE 15 ANYS, I tinc clients contents A tot el món. Al meu Instagram pots veure unes quantes fotografies i videos bonics de les joies i m'encantarà que comparteixis les teves fotos amb mi!